A Closed-Loop, Reusable First Model for Glass Packaging
As you may or may not know, last month, in celebration of Earth Month, we launched Retail Reuse. A pilot program to encourage the reuse of glass jars. 
This project has been in the works for quite some time. It required the coordination of many stakeholders sharing one common goal: To create a more sustainable and cost-effective packaging solution for local food manufacturers.  
At Bold Reuse, we love working collaboratively and we recognize that working together to solve complex problems is often the only way to actualize real progress. We wanted to use this blog to say thank you to our pilot partners and share insights into our experience in the hope that others may leverage our learnings to support the growth of reuse in their own communities.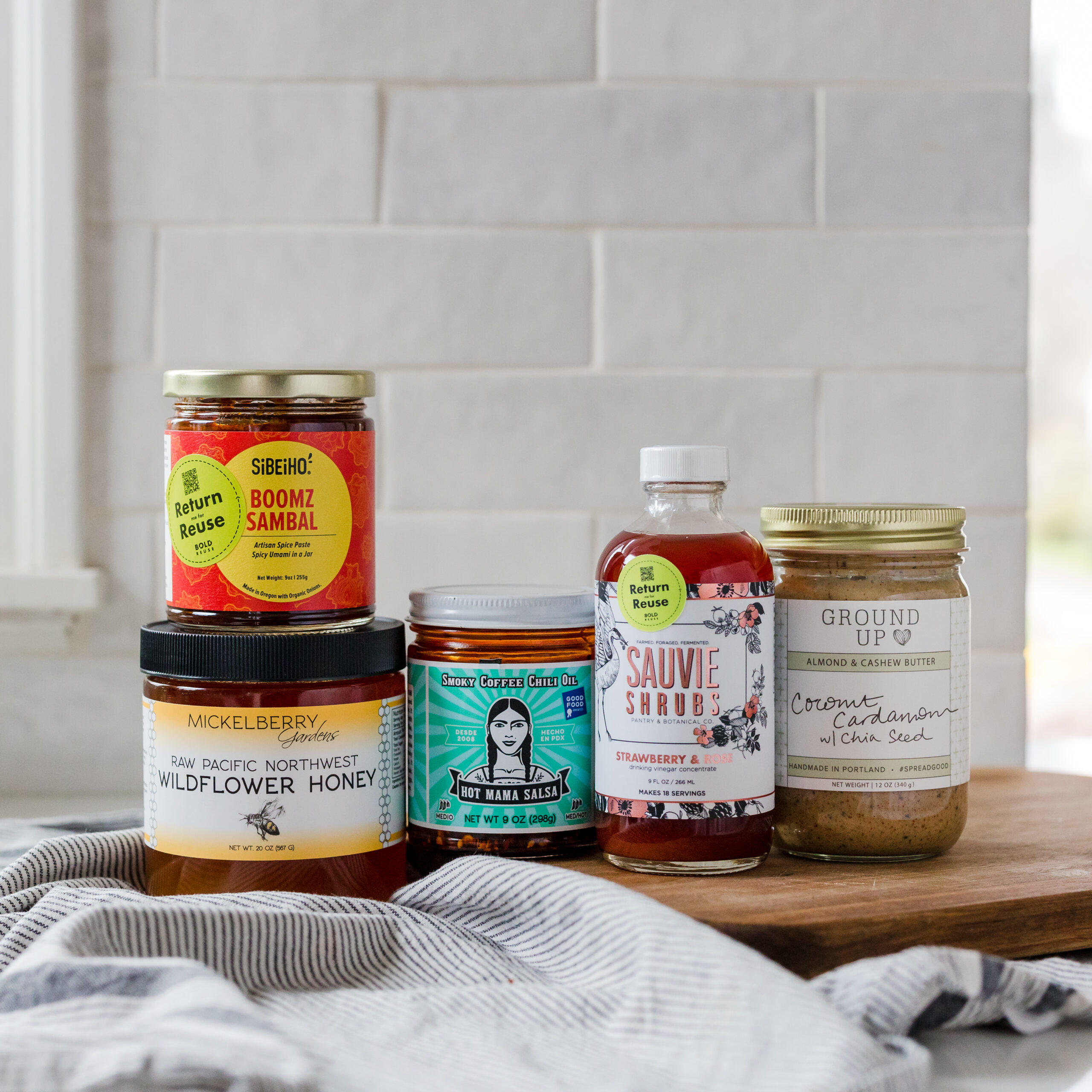 The Start of Retail Reuse
Back in 2020, the COVID-19 pandemic caused major disruption in packaging supply chains.
Costs for standard glass jars ballooned overnight, which proved to be an issue for local food producers
. 
Unlike larger corporations, these small enterprises couldn't assimilate the sudden surge in costs for glass packaging
.
Hannah Kullberg, Co-Founder of Community Co-Pack and a seasoned professional in the Oregon food manufacturing industry, approached Bold Reuse with an exciting idea: creating a reusable packaging system for local food manufacturers
. We were immediately intrigued by the concept!
This prompted us to gain insights from local producers and retailers on challenges within the supply chain
. Our goal: explore how a local reuse system for glass packaging as a solution to address those issues.
During this research and development process, we discovered these pain points:
Most of the glass packaging ends up in landfills, contributing to pollution and climate change.
Although glass can be recycled endlessly without material degradation, the process of glass recycling is very resource intensive, requiring high heat generated from fossil fuels which release toxic emissions. Portland's local glass recycling plant was recently found emitting high levels of nitrogen oxides and sulfur dioxide into the nearby frontline communities, creating an environmental justice and pollution emergency.

Costs for glass packaging have risen dramatically over the past three years, with some manufacturers paying nearly $1 per jar. 

Supply chain disruptions have also meant that sourcing glass packaging products have become more difficult and less predictable.

Manufacturers, retailers, and consumers are all looking for more sustainable packaging solutions and reuse is the best option we have to reduce environmental impact. 
We jumped at the chance to partner with New Seasons Market, Waste-Free Advocates and Hannah Kullberg to test the feasibility of a reusable glass packaging program in the Portland Metro region. The pilot program, Retail Reuse, is funded by Metro's Investment and Innovation grant program and officially launched on April 14, 2023, across all New Seasons Market locations.
In collaboration with our partners, we developed a closed-loop, reuse-first model for glass bottles and jars that are commonly used by food manufacturers to package their products. Retail Reuse will operate until the end of 2023. During that time we aim to provide substantial environmental and economic benefits to our local food manufacturing partners and the community at large by reducing emissions and costs associated with recycling of glass.
Retail Reuse will be operating at all 19 New Seasons Market stores across Oregon and SW Washington. In addition to our operating partners, we've partnered with five incredible local food makers. 
Visionary brands participating are Ground Up Nut Butter, Hot Mama Salsa, Sauvie Shrubs, Mickelberry Gardens and Sibeiho.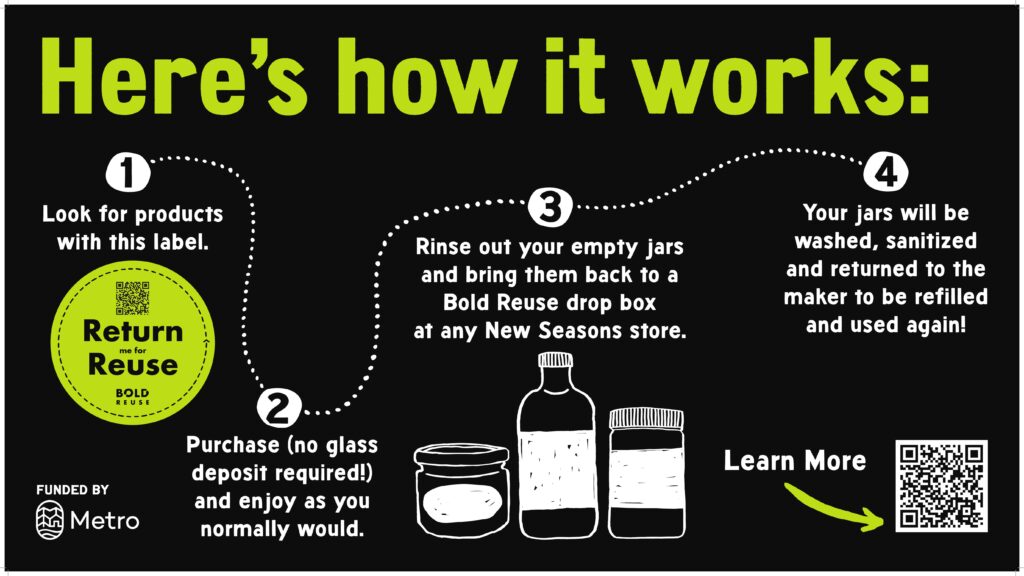 Reuse has never been easier – just head to your favorite New Seasons Market, and pick out any of the amazing products from the makers listed above! Purchase them as you usually would, there are no additional deposits associated with this program although there is a little something extra in it for you (hint: bonus Neighbor Rewards points!). Take it home, enjoy it and when you're done bring it back to any New Seasons Market location and drop it off in Bold Reuse drop sites. We'll pick them up, and bring the empties back to our facility to be washed and sanitized. Then, the cleaned jars are returned to their original vendors for reuse!

This program is a win-win for everyone involved. Customers can enjoy their favorite products without creating single use waste. Local food manufacturers can continue to use high-quality glass packaging without incurring the high cost of purchasing new packaging each time. And, of course, the environment benefits from a reduction in waste and emissions. 
As the program continues to gain momentum, we expect to expand to include additional vendors. Keep an eye out for developments in the near future! 
We are thrilled to have launched the program and can't wait to share the results.
Sports & Entertainment Reusables are better for the environment – and for your venue. Switch to Bold Reuse and start
Read More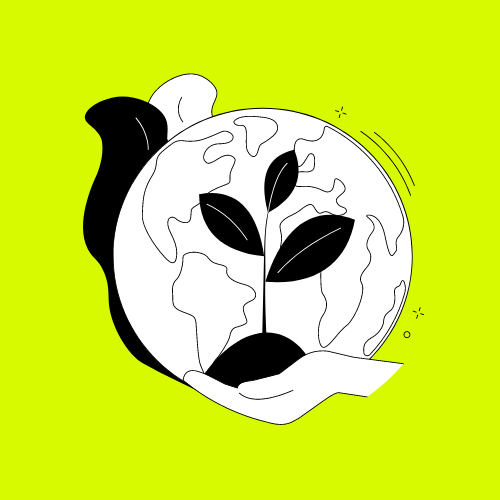 Scotland is taking a bold step toward a more sustainable future with its recent introduction of the Circular Economy Bill.
Read More