Businesses, events, and organizations all over the world are ditching disposable packaging and switching to reuse.
Use this checklist to launch a successful reusable program for your business. 
Even before you launch your reusable packaging program, there are a few things you need to consider. Think through the plan, and understand who your stakeholders are.
✓ Find A Reuse Service Provider
Reuse service providers like us here at Bold Reuse will help to make your reuse program a success. We take care of the logistics and sanitation of your reusable assets so you don't have to! 
Collaborate with reuse service providers to make the transition to reuse more convenient and efficient.
✓ Determine your stakeholders
Communication with each one of your stakeholder sets is critical. This will ensure high adoption, utilization, and returns. 
Think through: Who might be interested to learn about this initiative, Who might be able to suggest a change in workflow? Which partners will this change affect?
Here's a list of people you may want to loop in:
Executive team, front-of-house staff, back-of-house staff, sanitation team, customers, operations, marketing, sales, finance, purchasing, and communications. 
✓ Brainstorm A List Of Potential Communication Touchpoints Across All Stakeholders
Think through what type of materials you might want to create and channels you want to communicate through.  For example, you might need to create a video for your frontline staff or create a presentation on the business implications for your executive team.
✓ Train Your Frontline Staff
Training your customer-facing team is critical to getting buy-in. Since they are the ones communicating with or supporting end customers, they'll need to know an overview of the program and answer basic questions like what the reusable assets look like and how customers should return them.
Things to do:
Share a staff training guide with key statistics for why they should care, and how they can support the success of the program. Here's an example staff training guide.
Make the process engaging and exciting! Share a quiz about the program with prizes available for people who take it. Bonus points if prizes go to people who get all the answers right!

Host a training session to show off your new reusable assets, answer questions and make them feel a part of the process. Ensure employees are aware of the entire process from start to finish.

Encourage your employees to participate.

If your employees participate – they will be more likely to want to get customers to participate as well.

Encourage employees to ask customers if they want it in a reusable container with every order.
Pro Tip For Retail Food Service: Ensure container tare weight is located at checkout if being used for bulk or deli items.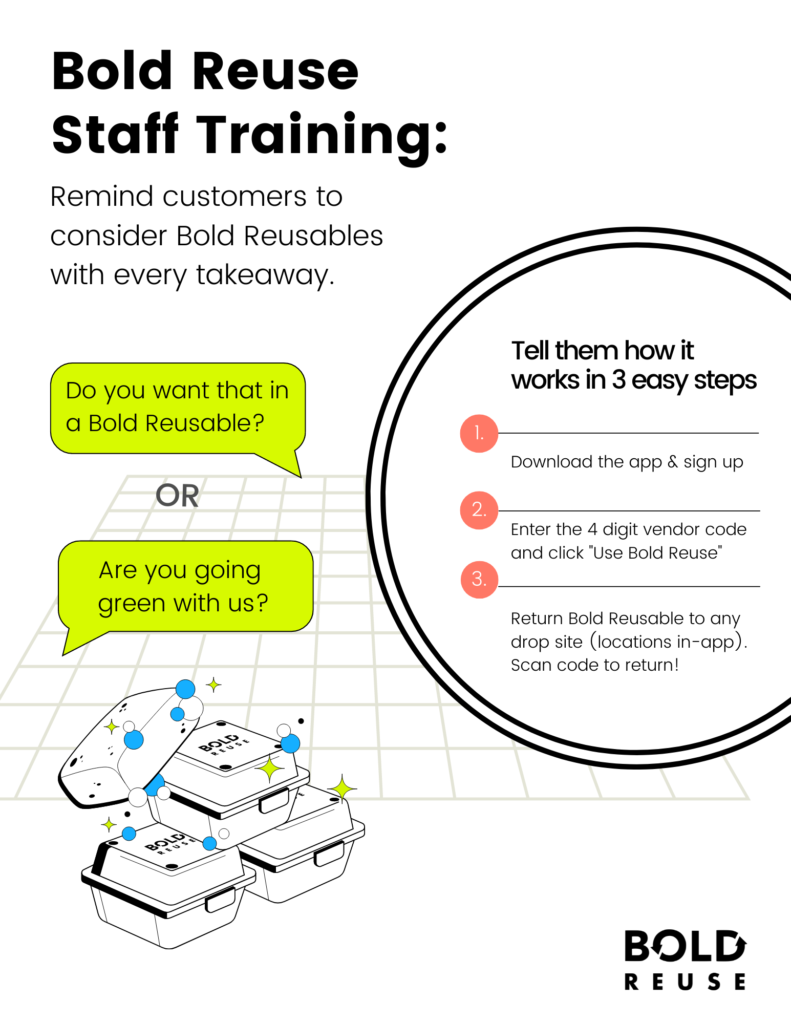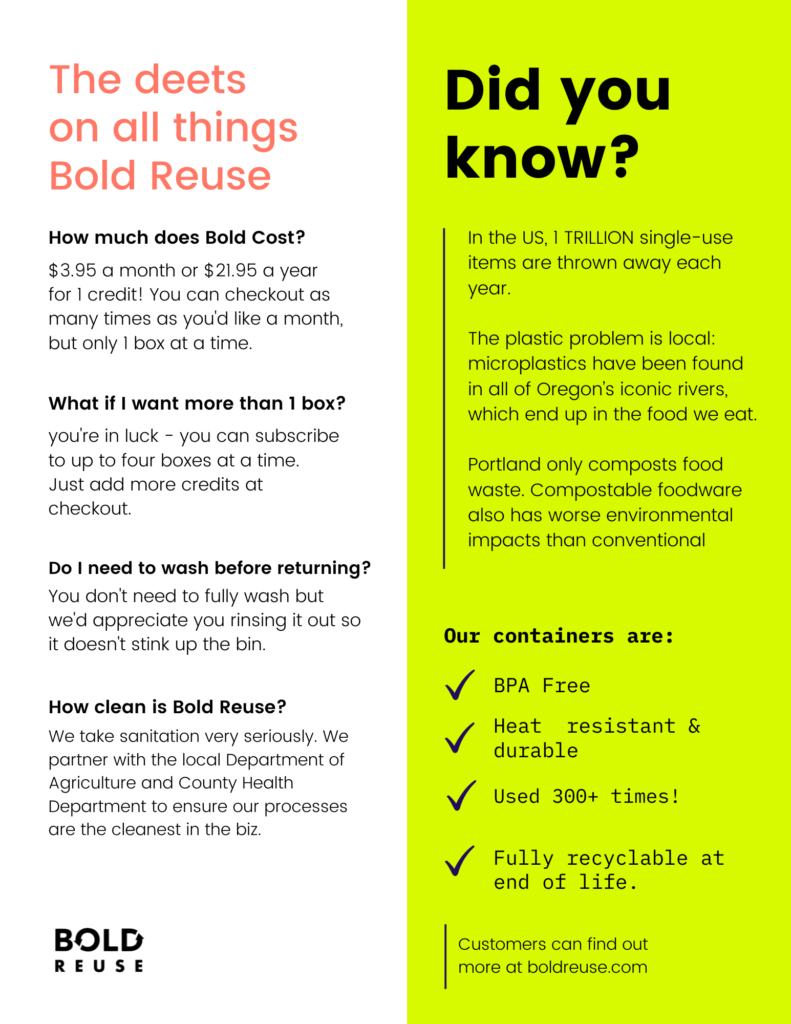 Once you've communicated with all your internal stakeholders, and trained your staff, you're ready to launch! Follow these steps to ensure the week leading up to launch day runs smoothly.
Blog Post – Write a blog post about why your company has decided to implement a reuse program. Provide key statistics and talk about the journey to launch.
Landing page – Create a landing page for customers to visit that explains the program details on how it works. Include any press releases surrounding your program.
Home page promotion – Create a featured section for your reuse program on your home page to direct customers to your program's landing page.
Send out an email blast to your database to promote the program. Make it fun and exciting by offering specials to entice customers to participate in your program.
✓ Social Media Announcement
Update your social media accounts to let your followers know your program is launching. Encourage followers to share and spread the word!  
✓ Publish a Press Release
Reach out to the friendly press about the program or submit your release via Newswire. This is a great way to inform external stakeholders who are not on social media or in your email database, and also show your credibility.
Here is an example of a press release.

Print signage that explains the program to customers is a great way to grab their attention in-store and make the process more convenient.
Encourage customers to participate and learn more about your program and goals by including visual How-Tos and FAQs around your business.
Pro Tip: Include a QR code on key signage!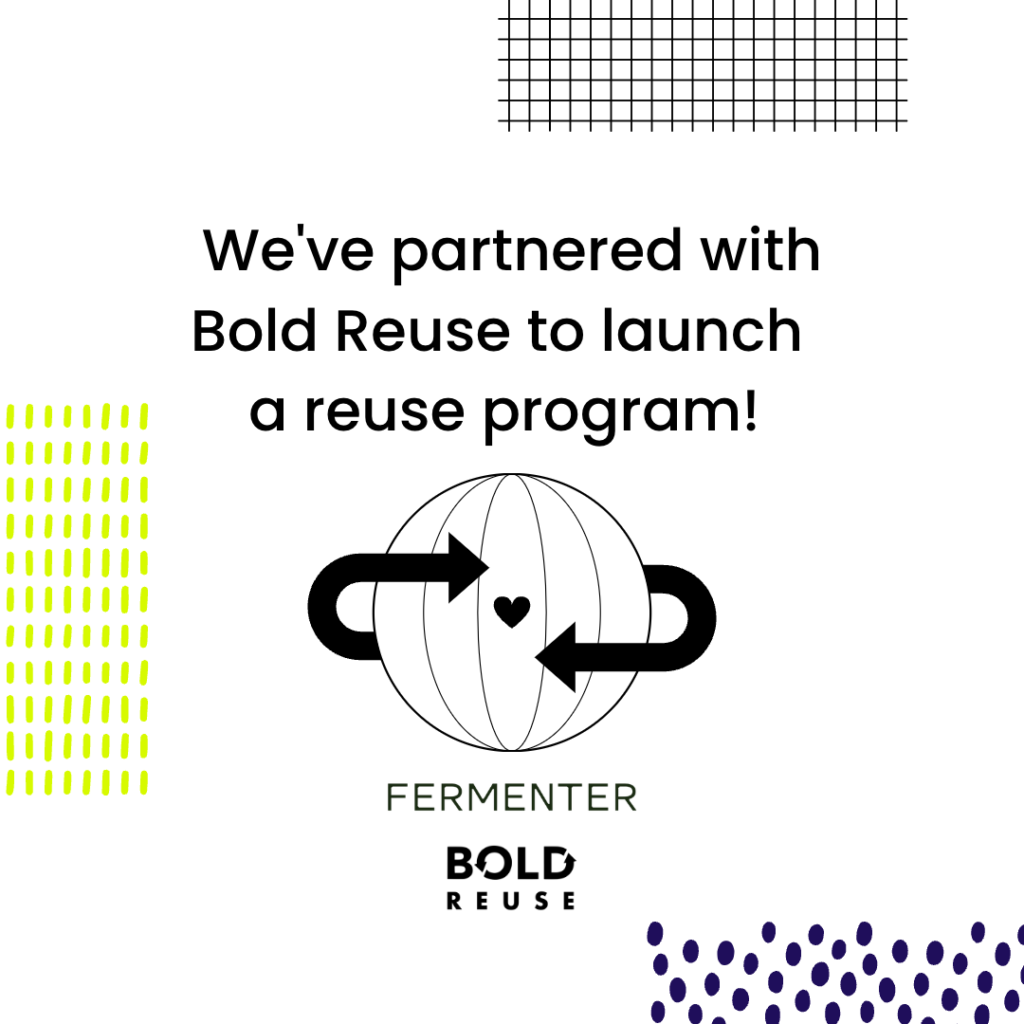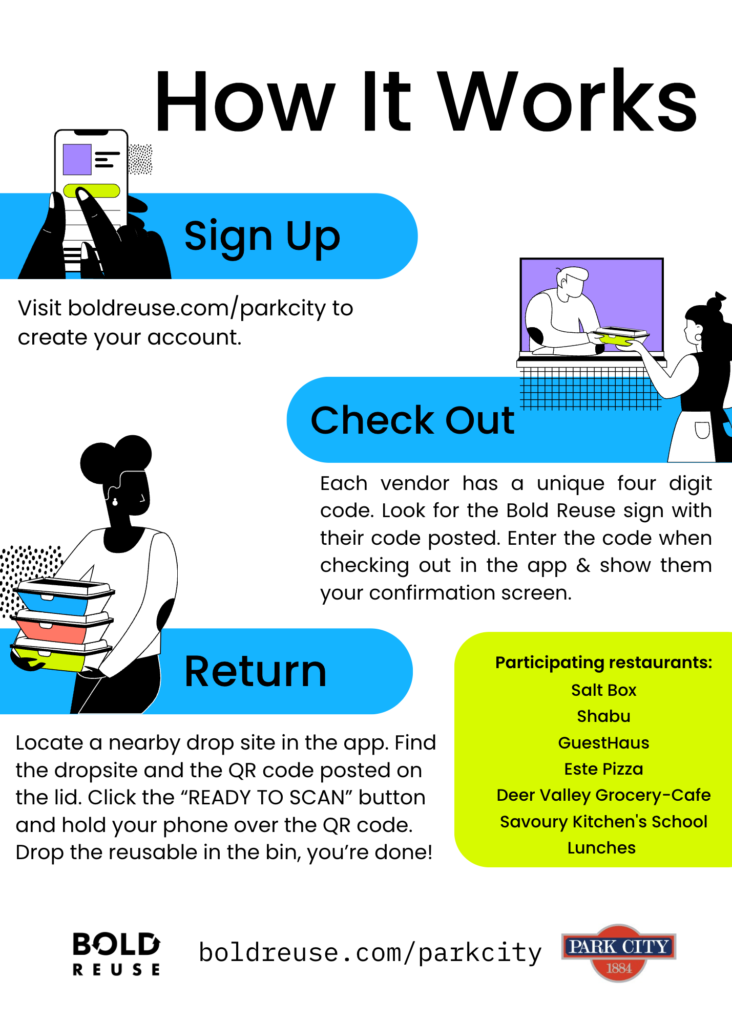 Congratulations! You have successfully launched your reuse program. What now? Post-launch is critical to the success of your program. Now it's time to watch your program grow and make adjustments as needed. 
Customer feedback is crucial to improving the program and creating a system that will last. Make changes accordingly to ensure you are creating a positive customer experience. 
✔︎ Send out follow-up emails to remind customers the program has launched.
✔︎ Attach a survey to see how customers are responding to the program, and encourage utilization with contests and giveaways. 
Regularly update your customers on their impact from participating in the program. Update the number of products reused on social media, and newsletters or have a counter located on your home page. The possibilities are endless!
✓ Remind Customers to Return Containers
Customers sometimes forget – that's okay! The return rate on containers is something that stakeholders will pay attention to – and a metric that can measure how successful your program is. Reminding customers to return containers is a great way to manage this and also get customers into the habit of using and returning them. 
✓ Follow Up with Employees
Set a regular cadence with your internal team to share success stories, customer feedback, photos, and stats related to your program. 
Now you're ready to launch your packaging reuse program.
We've put together a checklist for you to use during your launch, fill out the form below to access yours today!
Get your free printable checklist and launch project Plan